Welcome to my user page, here I will tell you about me in the way of third person narration! Kora~
Introduction
In fact, Natsunohikari is a Chinese who loves fandom and is a college student (but his English is still poor), so he may not have much time to edit. He joined the fandom on 7th, Feb. 2018, by making the first edit on 哆啦A梦 wiki.
He's name "Natsunohikari" is a romaji word which spells as "夏の光" in Japanese and means "the light in summer". At first he used the account "Doramifans".
Favorite
He is a fan of Japanese ACG(NO GAME), especially fighting moe (cute), yuri (girlslove),kitsune (fox) and nichijou. His favorite anime is Himoutu!umaru-chan, My sister, my writer, Sewayaki Kitsune no Senkosan, Konohana Kitan and so on.
The above statement is not complete. HE IS A SISCON (YUONGER SISTER COMPLEX), BUT he is only lost in the relation between brother and sister in the anime, not in reality.But there is nothing else!!
Discord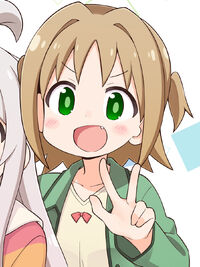 His discord head portrait, and his discord name is Natsunohikari#4734.
wikis
Some wikis he focuses on (he's admin/bureaucrat) are as follow, and mainly are Chinese wikis.