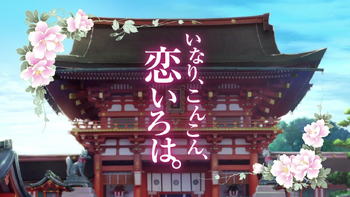 Inari, Konkon, Koi Iroha (いなり、こんこん、恋いろは。, Inari, Konkon, ABCs of Love) is an anime television series adaption of the supernatural shoujo manga by Morohe Yoshida. The anime series is directed by Toru Takahashi. The series was premiered January 15, 2014 on the Tokyo MX.
Synopsis
Frazzle-haired middle schooler Inari Fushimi is less than average; she's painfully shy and horribly clumsy, but despite all this, she is undeniably kind. Running about the winding streets of her hometown, she takes a shortcut through the local shrine and stumbles upon a small fox pup in a river. After rescuing him, she continues on, but from this moment on, her life takes a drastic turn.
Grateful for rescuing the pup, the shrine goddess Uka-no-Mitama-no-Kami, "Uka-sama," grants Inari a fragment of her power. Now, Inari has the ability to transform into anyone by shouting the magical phrase "Inari, konkon." Could this power also grant her the courage to convey her feelings to her crush, Koji Tanbabashi? With her new heavenly ability and the fox spirit Kon, Inari forms a sincere friendship with Uka-sama, encounters more of the supernatural world, and learns that true love knows no bounds.
List of Episodes
Main article: List of Episodes
Theme Songs
Staff
Director: Toru Takahashi
Assistant director: Hideki Okamoto
Series composition: Doko Machida
Character design and drawing director: Takayoshi Ariyoshi
Main Animator: Shen Hong
Prop design: Okuda Mantsuri
Color design: Aya Ouchi
Art director: Joshi Onishi
Art setting: Ryu Sakamoto
Director of Photography: Ryosuke Tsuda
Edit: Shigeru Nishiyama
Acoustic director: Kazuya Tanaka
Sound Effects: Noriko Izumo
Sound Production: Dachs Production
Music: Takeshi Senoo
Music Production: Flying Dog
Animation Production: Production Imes
Production: Inari, Konkon, Koiiro. Production Committee
Cast and Voice Actors
Videos
Gallery
Release
Japanese
English
Community content is available under
CC-BY-SA
unless otherwise noted.